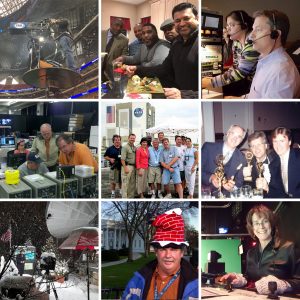 It's time to get out your cameras and show the world what you do every day. The 2018 IBEW Local 1200 Photo Contest is open and all members are encouraged to enter.
Whether we're behind the scenes recording breaking news broadcasts or just taking pictures of our every day lives, the skills of the Brotherhood are unmatched.
Photographs are a great way to capture a moment that tells the story of our membership. In the space of a few pixels, these images show the world who we are, what we do and how well we do it.
Now it's your turn. What's your story?
First place winners will receive $200, second place $100, third place $50. Winners are chosen by fellow members and the public.
The deadline is July 1, 2018.
View the Gallery of Submitted Photos
Submit Your Photo
Photo Contest Rules:
The contest is open to active or retired IBEW 1200 members only. The person submitting the photo must be the person who took the photograph. Members may enter more than one photo.
Photos can be submitted as digital files of at least 300 dpi, in color or black and white.
All submissions become the property of the IBEW 1200 Media Department.
If members are featured in the photo, they should be identified. If large groups are pictured, the name of the group or the purpose of the gathering (e.g. a safety committee, a linemen's rodeo, a union meeting) can be submitted in place of individual names.
Photo Guidelines:
To ensure that your photographs are publishable, please follow these guidelines.
The best way to tell if your photograph is of high enough quality to print is by looking at the pixel width and resolution. Generally, photos should not be less than 2,200 pixels wide at 300 dots per inch (dpi).
Most computer programs have a "Properties" tab you can use to check pixel width and file size.
Another good indication of image quality is file size. Typically the file size should be listed in megabytes (MB). A file size listed in kilobytes (KB) is generally too small.
Just because a photo looks good on screen doesn't necessarily mean it will be large enough to use in a print publication.
If the image is too big, we can reduce the size. If it's too small, it cannot be enlarged without pixelation, which compromises clarity. Err on the side of sending a larger photo.
Cameras also have adjustable settings for photo resolution. For print quality, camera settings should be set to an image size of 5 MP (megapixels) or higher. If you're unsure about the settings, a good rule of thumb is to set the camera to the highest quality setting it allows.
Cell phone photos may be acceptable, depending on the phone model. Smartphones (iPhone, Android, and Windows) usually produce files that are of high enough quality as long as the original file is sent. Blackberry and other non-smartphone photographs are of a too low quality to be printed.